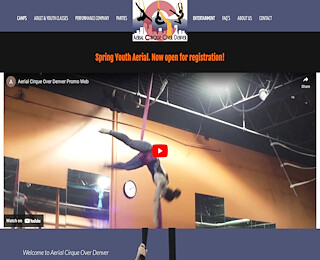 Aerial dance is one of the most exciting and fun ways to enjoy yourself and workout at the same time. Aerial dance is a technique that incorporates the use of special apparatus that is typically part of aerial performances. Aerial Cirque Over Denver offers a variety of specialty aerial classes in Denver. Our classes are all taught by highly trained aerial instructors and we also offer teen, pre-teen, youth and aerial dance camps.
Aerial Classes in Denver
Aerial classes in Denver are fun and unique and provide you with an interesting way to exercise. You will learn many of the techniques and skills that you can use as you progress through various classes. You'll be able to advance as much as you like. Beginners start with the aerial basics class. This class provides you with an introduction to aerial dance. You'll learn how to use the apparatus as you improve your strength and flexibility. You will gain experience on silks, trapeze, sling and aerial hoop.
Once you master the basics you can progress to more difficult classes. The intermediate silks class utilizes silks that are suspended from the ceiling so you can actually dance in the air. Trapeze is a swing-type device that is suspended with two ropes to about shoulder height. Our flexibility and contortion classes are a great way to improve your strength that is necessary to further hone your aerial skills. It helps you achieve better lines and you will be guided with special help from the instructor.
Advanced Classes
The aerial workout class is a fun way to exercise. It helps you build upper body strength and is designed for all levels of abilities. It gives you a great way to try various apparatus; however it is important to note that you won't learn aerial tricks in this course.  Lyra class focuses on using the lyra or hoop along with the Spanish web. This intermediate or advanced level class allows you to work with flexible rope suspended from the ceiling, called a web. Dancers utilize the web to move into various positions using the hoop.
Advanced skills classes are only for those who have experience and training in silks. The class teaches a selection of new moves such as drops. Aerial performance and choreography is a course designed for those who want to set their aerial skills to music to create interesting routines. The course teaches you how to take your aerial skills to a whole new level through performance.
Our aerial classes in Denver are taught at our studio. Located in Denver, our studio encompasses more than 3,000 square feet and has 35 rigging points and 7 aerial stations. Our studio is designed with safety in mind with a specially-designed padded floor and unique ceiling structure that was designed by engineers with experience in aerial performance. We are the largest aerial training facility in the Denver area. To learn more about aerial classes in Denver and to find out the current class offerings and schedule visit us online at AerialCirqueOverDenver.com.